The G20 begins a two-day meeting on Friday against a background of rising food and commodity prices.
本周五,20国集团就不断上涨的食品和商品价格问题进行为期两天的会议。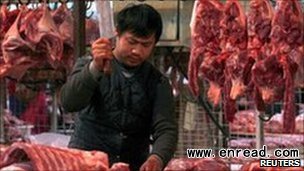 What to do about the rising price of basic goods like food is likely to preoccupy the G20 meeting
Finance ministers and central bankers from 20 of the world's biggest developed and developing nations will gather in Paris.
They are being urged to tackle(处理) the issue of price inflation affecting basic goods, like food and fuel.
Ahead of the meeting the International Monetary Fund warned that these have increased economic imbalances.
Earlier this week, the World Bank said food prices were at "dangerous levels" and had pushed 44 million more people into poverty since last June.
John Lipsky, first deputy managing director of the IMF, told the BBC that the G20 needed to work to remedy(补救) the instability: "There is great concern over the obvious high volatility(易变,活泼) of basic commodity prices especially food."
French President Nicolas Sarkozy, who is currently the head of the G20, has argued that commodity speculators should be reigned(统治,支配) in in order to reduce food price spikes and volatility.
Unchecked speculation
Meanwhile, more than 100 European and international organisations led by the World Development Movement (WDM) have signed a statement warning the G20 of what they see as the dangers of unchecked speculation.
Julian Oram of the WDM said: "By taking action now to curb excessive speculation on food, G20 leaders could save lives, reduce chronic(慢性的,长期的) hunger and prevent civil and political unrest."
Rapid food price inflation in 2008 sparked riots in a number of countries. At that time, the World Bank estimated 125 million people were in extreme poverty.
The World Bank also called on this week's G20 meeting to address the problem, saying in a report that rising food prices were an aggravating(加重的) factor of the unrest in the Middle East, although not its primary cause.
Some analysts have pointed to the difference between speculation, which can provide up-front money to a farmer to plant new crops, for example, and market manipulation, which is designed purely as a play on prices.